If the onion rate rises, you are sure the government's gonna fall!! Such is the usage of onion in our country. Recent events show the prime news being the same( hopefully the result shall be true too!!) But 100 per kilo?!? What has gone wrong? Where? Why this shortage of onion? I actually suggest to stop eating onion( I don't)... best thing!!
Actually, a similar crisis occurred in 1980, 1998, 2010 leading to fall of the then governments!! In fact, Maharashtra which is the leading producer of onion in the country contributes the highest to the GDP of the country! In 2010, the Government took desperate measures to face the problem. We had to ban exports and import onion from our arch rival, Pakistan leading to an agreement for an FDI in our country!! Such is the intensity of onion price in our country.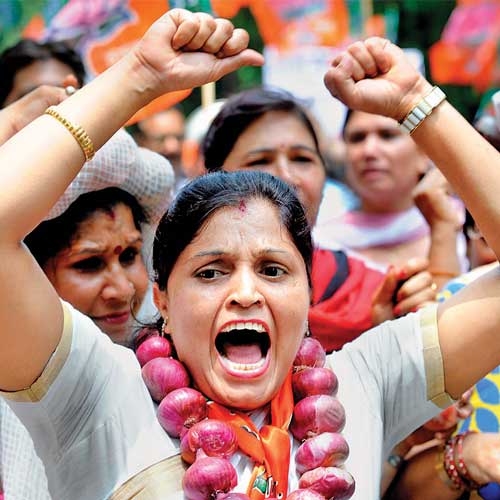 According to the Agriculture Produce Marketing Committee act, the problem came here. In 2010, it was due to less rainfall. But this time, it is over rainfall. This led to destruction of the this khariff crop. Most got destroyed. However, there is a very good output. The argument is that in a few days, the rates will be down. The retail rates are rising because of a "monopoly of wholesale traders" This was regulated by the APMC act. Since the state governments have the power of agricultural reforms, they were asked to control this monopoly.
Of course, this monopoly means the illegal export of onion to foreign countries( atleast in India, there are people who do not eat onion. Abroad, people die without onion and garlic!!)t is her
It is here that the governments of Delhi and Bihar failed. They did not pay heed to this act. Result, onion price in the Union territory of Delhi is Rs.90 and in Patna, it is Rs.100. So, moral..buy onion in bulk from tomorrow till the retail rates come down.