Indian cricket team captain, Mahendra Singh Dhoni would now be gambling for a bowler who will bowl good overs for him in the death and Jaydev Unadkat might be excited because he may be called in for the next match! Yesterday, around 80 overs of team effort was wasted with one over of carelessness. But one thing is now proved...anything is possible with India..our motto, "Chase and let others Chase"!!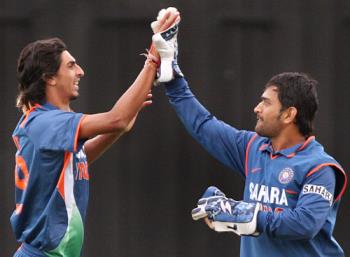 Who knows if not Ishant, maybe Vinay Kumar might have given away those runs. But when your leader struggled to bring to the banks your team from 154/6 to 303/9, you have got to have consideration for that beautiful knock and bowl carefully. After all, "Nobody wants to bowl a bad over" as said by Dhoni himself. But this is no reason to justify giving away thirty runs to a bowler. Thank You. Those runs were not given away to Doherty!!
Whether the mistake is Ishant Sharma's magnified error or is the mistake, the unseen poor performance of the other batsmen is to be debated. When an Australian bowler can hit the spearhead of Indian bowling attack, couldn't one Indian batsmen take risk and attack the Australians, atleast Glenn Maxwell!!
Cricket is now a batsmen's game and it is not right to just push the blame on one bowler. This has been happening for a long time. Chetan Sharma giving a six of the last ball to Pakistan being the most famous and recent ones like Irfan Pathan, L.Balaji etc. However, this act of giving away 30 runs that too at a very wrong time is not pardonable too. May be it is time to give rest to Ishant who has been bowling continuously for a long time so that he can return big!! And don't worry people, there are four more matches!!