A very Happy Diwali to all!!
The cracker bursting started with Rohit Sharma's innings against Australia in Bengaluru. The entire country was busy in firing rockets yesterday for Diwali. But the real bonanza came from the
Indian Space Research Organisation (ISRO)
starting the count down for the firing of a real rocket, a Polar Satellite Launch Vehicle (PSLV) carrying "
Mangalyaan
," the Mars Orbiter for the first time from India. If successful, India will be on par with the U.S, Russia, Japan and Europe.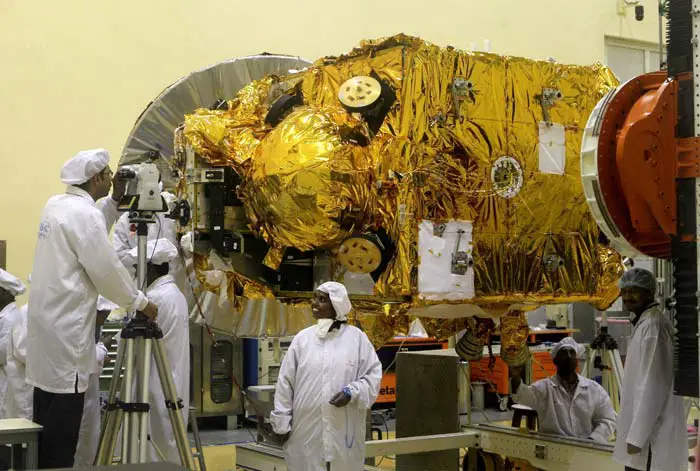 Scientists at work for Mangalyaan
The Mars Orbiter Mission is all set to carry the 1337 KG satellite to 'Angarak'(Mars). Mars is also called "ArunaGraha" or the 'Red Planet.' Different payloads are being carried about which I will soon come up with an article once the PSLV C-25 successfully ejects the satellite into its orbit. This shall be a historic moment in the history of India. Considering the excellent record of PSLVs, I am extremely positive about the success of Mangalyaan. The countdown for 56 hours has started at 6:08 AM on Sunday and the pre-tests have given pretty satisfactory results. Tuesday will witness a miracle in the clear skies of Sriharikota, an island launch center for ISRO about 100 KMs away from Chennai.
This "Mangalyaan" has become very popular not only among India but also in countries like the U.S. The United States also sent lucky peanuts or something like that to India for good luck. There is also a collaboration between National Aeronautics and Space Administration (NASA) and ISRO in this Mars Orbiter Mission. Not only the U.S but other space giants like Russia, Japan, Europe, China and Israel are awaiting this wonderful mission.
The great thing about this Mission is the cost of it. It costed rupees 450 crores which is about just 73 Million U S dollars. This really is "peanuts" compared to the cost of 'Curiosity' rover sent by NASA-JPL which costed about 2.5 billion U S dollars. Mangalyaan has almost the same features as that of Curiosity. Maybe this is the reason why everybody is looking into India's mission right now. But the saddest part is that when everybody including few strongest and developed nations are looking at this wonderful mission in awe, we Indians are busy in criticising that a lot of money is wasted!! Pathetic!!
The reason why it is so less in cost is that we Indians do not work for money. All the scientist at ISRO work only for national pride. To take India higher. To make Indians stronger. To make the future generations prouder.