Two giants in the sporting world! One of them praised as "God of Cricket." The other is considered the best among "Gentlemen" by the world! This reflects the amount they gave to the world. But somehow, the respect and the credit they deserve is not being given to them! Definitely, there is no questioning their service to the respective sports. I can strongly say that
Sachin Tendulkar
and
Roger Federer
have played a major part in publicising Cricket and Tennis. Is it because they are out of form right now that they are being criticised? Or are they out of form because of the lessened respect?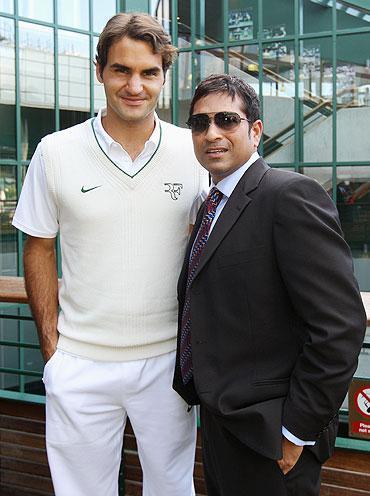 It is true in Sachin's words that it is the fans that is the reason for a player's success. But one very important thing is that these "fans" are very fickle minded. You win, you are a deity in a temple. You don't win, you are a burnt effigy. Age is just a factor. People wouldn't have forced Sachin to retire from ODI cricket had he scored three more centuries after his hundredth. People wouldn't be crticising Federer about his reflexes diminishing had he been continuing in first place after his 7th Wimbledon! Ironically, it is the same fans who led to their success that are now an albatross around their necks!!
This brings in into the discussion one more great Tennis player who was never in the limelight and from who these two can learn to play devoid of any thought about publicity.
Leander Paes
has always been an excellent player for India, winning consistently including the bronze medal in Tennis at the Atlanta Olympics 1996. He was like many other good players, never given enough respect he deserved. But he did not stop winning. Pairing with various people, ranging from Martina Navratilova to Rohann Bopanna, he kept moving on not flinching a bit about the publicity he wanted. Just recently, he has added another Grand Slam to his name and I am sure he cares two hoots about how many people acknowledged his victory. Let us not discuss why he was not as much popular but we shall stay focused on the sport and the love for it.
The love is always there anywhere. Even a child going to a coaching academy has that love for the sport. But these three and many more are the ones who never lost the love for the game. The thirst of winning. The killer-instinct!! It is on our part not to destroy that feeling! We are not going to tell H.E Sri
Abdul Kalam
to stop involving in science and research just because he has become old! These people have given us a lot. Entertained us a lot. We got a lot to brag about because of them. Not to forget the sweet memorabilia. Let the sportsman spirit continue!!