22 April 1998,
In the heat of Sharjah, there was a storm, popularly called the 'Desert Storm.' The epi-center of this storm was a twenty five year old cricketer, Sachin Ramesh Tendulkar. Amidst the chanting of '
Indiaaaa Indiaa'
and
'Sachiinn Sachinn,'
as he stormed upon the bowlers, charged and lofted spinners for sixes, pulled fast bowlers for fours, he took the world of cricket by storm. People were not only stunned but mesmerised by his unique straight drives, cover drives and late cuts. VVS Laxman, on the other end would have felt wonderful for having partnered Sachin in the show. The Aussie bowlers would have thought why on Earth it had to be them on the receiving end. The spectators would have felt more than satisfied for what they had paid for. Cricket freaks would have been like, 'Maybe it is time we call him God.' And fifteen hundred miles East of Sharjah, young cricket aspirants would have padded up, inspired to go on to the field and prove themselves. MS Dhoni and Virat Kohli are two among those hundreds of cricket
bhakts
.
If one asks Sachin what inspired him to take cricket seriously, he definitely mentions the 1983 world cup victory by the Indian team led by Kapil Dev. Surely, that is a milestone in the history of sports in India. No sport is followed as passionately as team sports. Because it is a team. In an individual sport, one can only like a single person but to support a team is more exciting because one gets to support an individual as well as the nation/team one loves. Maybe if India had won the FIFA world cup before winning the cricket world cup, those hundreds of youngsters would have gotten inspired to take up football and who knows, we would have won the 2010 football world cup! It is that spectacle of winning a huge sport event for the first time that led Indians to get motivated towards something. That created a hope that we could dominate and rise on the world platform in some form to prove ourselves. That moment of pride led to India loving cricket like it does now. This however though, eclipsed another moment of pride for India: an Indian-born had won the Nobel prize that year!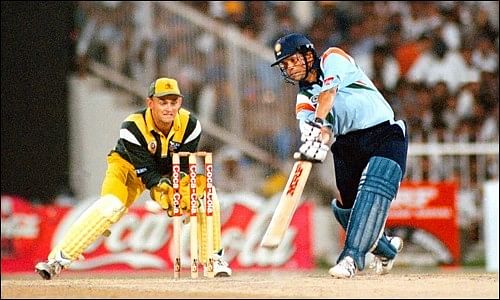 Sachin took the Aussies by a storm and Indian cricket to a higher level
25 March 2016,
In the heat of Mohali, amidst the chanting of
'Indiaaaa Indiaa'
and
'Viraatttt Viraatt,'
a twenty seven year old
Kohli stormed upon, once again, the Aussie bowlers. The way he paced his innings, running singles when his partner Yuvraj was injured, converting the singles into doubles once Dhoni came in, then going after the bowlers once he got the momentum was what a well matured cricketer would do. People were not only mesmerised but stunned by the way he constructed his innings. Rohit Sharma who got out cheaply must have felt why he is unable to play such well-tempered innings despite having immense talent. The Aussie bowlers might have thought, 'Why we??' The audience, reiterated why they love cricket and cricketers. Cricket freaks are like, 'Maybe it is time we call him God.' Young cricketers are padding up, inspired to go to the field and prove themselves.
Once in an interview, Rahul Dravid, a true mascot for cricket mentioned that the difference between a cricketer and a nurse is that the cricketer appears on the television. Well, that does make a huge difference, does it not? The media is interested in cricket because people are playing well and cricketers are playing well because the world is looking through the media. With greater attention, comes greater motivation. Why else would players, be it Sachin, Saurav, Dravid, Dhoni or Virat always thank audience for their support. In fact, Virat Kohli mentioned that the audience kept him going. Definitely media attention is what creates stronger teams for the country. And it is not that attention inspires people to play more. It is the vice versa, inspired people receive a lot of attention. With great motivation comes great attention!!
What an innings! Virat stunned the cricket world
It is good to know see women's cricket being given importance by the media. It might be the first time that post match shake-hand of women's cricket in India was shown on TV. That is a good sign even though the prize money for women's cricket is peanuts. Will the attention lead to a rise in the pay-check?
Hopefully in the future,
In the heat of Gwalior, the fort city of Jhansi Laxmi Bai, amidst chantings
'Indiaaaa Indiaa'
and
'Mithaliiii Mithalii,'
the cool headed Mithali Raj would be playing her signature cut shot and the straight drives, disrupting a strong lined Aussie bowling like it is nothing. The crowd and the nation will go berserk. Somewhere in those millions, few hundred girls will be inspired to pad up, inspired to go to the field and prove themselves!